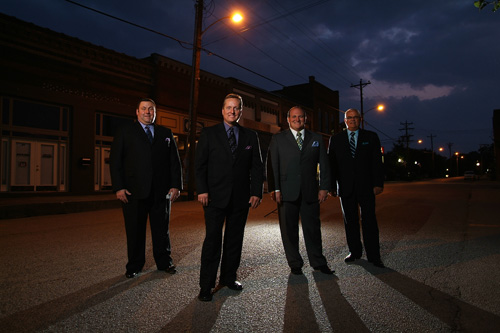 Character, Consistency, and Commitment when joined with a "Divine Calling" yields a Ministry seldom paralleled by the masses of today's standards. From Scotts Hill, TN comes a musical ministry experience known as "Four Fold" that strives to maintain this standard of excellence deemed worthy of the Savior they sing about.
In June of 1985 six high school friends came together to form what seemed to be "special music" for a local revival service. A service indeed, because that night God ignited a revival fire that still burns more than twenty five years later.
From then until 1996 these guys traveled at local churches, high schools and other venues while along the way making people notice that they had something to offer. In July of that year others picked up on that by awarding them the winners of Frank Arnold's Songfest Talent Search held in Jackson, TN. The next year they began working with award winning producer Kevin McManus and Nashville Teleproductions Co.
In 1997 they embarked on a new journey that allowed them to take their ministry of music all across the nation as well as some foreign countries. Having been blessed with great charting songs such as "Shoutin' Singin' Happy!", "Streets of Gold", "Miracles", "Jesus Will Be There", and the heart challenging ballad "Firmly Committed" they have a message to share of how God transforms our lives in new and astounding ways if we only give Him full control.
Currently Four Fold travels as a four part all male Quartet Southern Gospel full time music ministry. They perform with live instruments as well as accompaniment tracks in a high energy spirit filled atmosphere. They are represented by the Rivergate Talent Agency and have recently signed a recording contract with the one of the premiere record companies in the industry Chapel Valley Music Group.